Brass
Brass
Information

Affiliation:

Order

Base HP:

350

Scrap:

100

Primary Attack Type:

Ranged

Primary Damage Type:

Physical

Speed:

???

Cost in Store:

1500 or 12000
Brass the Master Engineer is a playable Hero in Orcs Must Die! Unchained.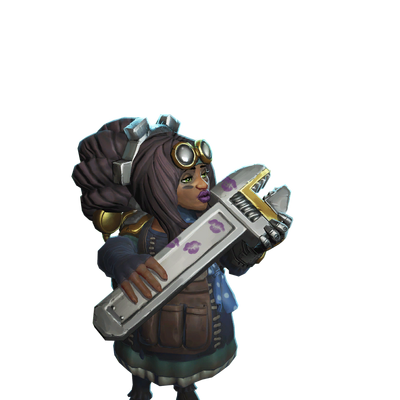 Brass deals massive damage with her Blunderbuss and is able to support her Turret by repairing and upgrading it.
Brass is a Master level engineer and considered one of the best in the Order. She is able to use her Blunderbuss, Dwarven Turret, and improvised demolition devices to keep her foes out of the rift.
Extended Character Bio
17.14.3235
Me 'n Dobbin held out at Itzal long enough for Midnight to take out Copperhead. The idiot that Dobbin hired ended up bein useful - Max was it? That idiot War Mage must have quite a bit o' magic runnin in im, too lucky not to. The way he was fighting, he shoulda been dead long before it ended - even if he wasn't tall. Gotta head back to camp and clean up the Blunderbuss and turret, poor things almost scrap. Dobbin can clean up the mess at Itzal.

18.02.3235
Hafta rebuild the turret completely. Soaking the salvage in vinegar. Gonna base the next build on blueprint T14-v3 - a classic.

18.06.3235
Setup T14-v3 at Itzal side entrance. Locked onto kobold going by but then exploded and collapsed that whole shaft. Followed the blueprint exactly, not sure what happened. Dobbin'll be digging that back out for a week.

18.10.3235
One of the High Warden's girls came by today, said she heard about Itzal and wanted to check in. Could tell that fight took it outta me, said we dwarf women "need that double energy to keep dwarven society running properly" and cast a speed pickup spell. Best I've felt in a while. Asked what I could do as thanks. She wanted to know about that guy Dobbin hired, seems to doubt his luck too, wants to know his magic source. Told her I didn't know much about him, but if she's interested in unusual magic I have notes on a family legend written somewhere that she might find interesting. Sounds like a load of scrap but she was curious anyway. Don't know where it is right now, said she'd come back later for it.

18.12.3235
T14-v3 has a structural flaw when using scrap this old, explains the exploding. Need to adjust the design, reinforcing alone won't fix it.

18.15.3235
Finally found those notes on the family legend from Triforemom. Tried organizin them but still not sure if its right. Who ever heard of jade bunnies or countries flyin anyway?

About 6 generations or so back, family came from the west - fortress they called "Thuricvod"

One of the last ones out before they destroyed the rift to stop the orcs

Family was defensive unit, specialized in turrets

Turret plans passed down each generation

Neighboring country called White Tiger Empire, ruled by Empress

Empress rumored to work magic with the Lunar Jade Rabbits as her familiars

Days before rift destroyed, whole empire except one mountain rose up into the sky - never saw it again

Empress' guardian seen taking elixir from the Jade Rabbits and turning to jade


19.03.3235
High Warden's girl came back for the legend. Seemed pretty interested when she was looking it over. T14-v4 is missin the BOOM that v3 had, might just ignore the flaw for now.
Lore from Character Bio
In the Bios there is a story line, most reference this story line. The story has some side plots that form branches. This Summary is part of the Midnight branch Side Story:
This Summary continues the side story from Dobbin Lore.
This Bio is Brass' diary following the events of Dobbins Bio. Brass starts by saying that they managed to hold out long enough in the mines, so that Midnight could kill Copperhead Joe (see Midnight's Bio). Maximilian helped them fend off the invaders. Brass headed back to camp to work on her blunderbuss and turret. After a week or two, she met one of High Wardens girls, who came to check in on the dwarf couple. The girl also wanted to know the secret to Maximilian's power (this might be a reference to the end of Cygnus' Adventures where he gives Max great power) after casting a speed pickup spell. Brass didn't know but knew about another secret power from her ancestors writings, Brass went looking for the texts and the girl left. The texts describe the time before the Great Shift (See Great Shift Branch above). Six generations ago her ancestors lived in the fortress at Thuricvod and one of the last families to escape before the rift collapsed. The White Tiger empire ruled by an Empress who got magic from the jade Rabbits (see Yi-Lins Bio) and a guardian who took an elixir and turned into jade (see Yi-Lins Bio). A week later the High Wardens girl returns and Brass shows her the notes, the girl is very interested in them. So who is this High Wardens girl it could be a few people.(see Deadeyes Bio) It could be Ivy who has come looking for Deadeye (see Deadeyes bio) and also knows how to cast speedup spell. Or it could be Reve one of the high Wardens daughters who uses this information to find where Yi-Lin is (see Yi-Lins Bio).
This side story continues with Deadeye Lore.

You can also read about the Main Story Line or other Lore of the Orcs Must Die universe.
Extra Lore
Brass is a Master level engineer and considered one of the best in the Order. She is able to use her Blunderbuss, Dwarven Turret, and improvised demolition devices to keep her foes out of the rift.
But Brass is not just any master engineer. This little fire-plug was top of her class and one of the most successful du-wicky and thing-a-ma-bob builders of all time. Over the years, Brass learned to perfect her gadgets to the point where she could take on hordes of orcs all by herself. The size of the Unchained armies made no difference to Brass and other dwarf engineers. Killing orcs in scores has become a game to them. Brass' family was one of the last to evacuate the great stone structures of Thuricvod. Staying behind as the other dwarves fled to safety, they closed off the remaining rifts. This brave act cut off the Unchained forces at Thuricvod and prevented them from following the dwarves and continuing to reduce their numbers. Little is known of the family's efforts and sacrifice but, although Dobbin does not speak of it, he has always been secretly proud of his significant other and her lineage.
After showing so much bravery and valor, her family was asked to share their designs with other engineers to strengthen the ranks of the dwarven army in the hopes of better preparing future defense against the Unchained hordes. For many years following the hasty retreat from Thuricvod, the Unchained sought to push the dwarves around but found their tiny foes to be craftier and more powerful than ever. Brass has never asked for any credit for her family's substantial contributions to the dwarven military might. Her needs are much smaller than that. She only asks to be counted in when the killing starts and for all the short or small jokes to stop (but not really).
Icon
Type
Name
Description
Damage
Cost
Cooldown (s)
Notes
Passive
Short Stack & Scrap
Brass is too short for large minions to see, so they will never attack her. Brass also collects scrap that drops from minions.
N/A
N/A
N/A
Each Scrap pickup provides 15 Scrap.
Primary
Blunderbuss
Brass shoots a shotgun-style spread shot from her Blunderbuss. The closer to your target the more damage possible. The blunderbuss also has a powerful knockback.
???
0
0
Secondary
Cannonball Shot
Brass shoots a giant cannonball from her Blunderbuss that damages her target and explodes. The explosion also provides an area damage effect.
???
0
6s
Third
Swiss Army Wrench
Brass can use this ability to repair and upgrade her turret as well as damage minions. Any wrench attack on a minion guarantees a scrap drop.
???
0
0s
Each use for Turret repair costs 5 scrap, each use for upgrade costs 10 scrap.
Fourth
Brass Bombs
Brass can place a land mine that explodes in an area when minions are nearby. Brass bombs cost scrap to place and she can only have 15 out at a time.
???
15
0
Dispelling it creates a Scrap Drop worth of 10 scrap.
Fifth
Dwarven Turret
Brass places a ranged turret that attacks passing minions. She can use scrap to heal and upgrade the turret with her Swiss Army Wrench ability.
???
0
0s
Upgrading to Tier 2 costs a total of 40 Scrap. To Tier 3 costs 70 Scrap.
Range: 3 blocks. Only one Turret can be placed at a time.
Dispelling a Tier 2 Turret creates a Scrap Drop worth of 30 Scrap, dispelling a Tier 3 Turret creates a Scrap Drop worth of 60 Scrap
Re-target time: 0.2s.
Hero Related Achievements
[
edit source
]
Spitfire Wall "Orc kabobs COMIN' RIGHT UP!" - Brass, Master Engineer