Gabriella
Gabriella
Information

Affiliation:

Order

Base HP:

200

Mana:

215

Primary Attack Type:

Ranged

Primary Damage Type:

Arcane

Speed:

???

Trap Affinity:

+25 HP for Summoner Trap

Cost in Store:

Free
Gabriella the Redeemed Sorceress is a playable Hero in Orcs Must Die! Unchained.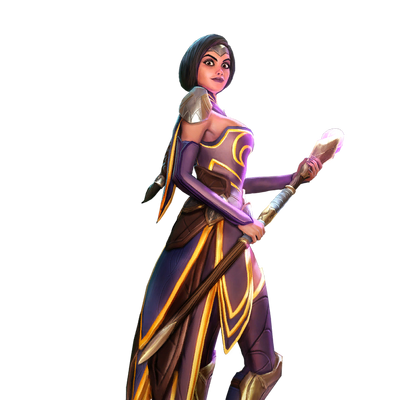 Gabriella deals ranged arcane damage and can escape quickly using Blink. She can also control minions and traps. Arcane users reduce the enemy's arcane armor with every attack by 12 points, for a maximum of -60 (+37.5% damage).
A talented sorceress, Gabriella is adept with arcane magic. Able to bend the will of both traps and enemies, she can turn the tide of battle quickly, overwhelming her foes.
Extended Character Bio
To: Dr. Blakeridge Editor-in-Chief of Anthropology Today 1123 Quill Market St. Capital, Territories Humaine
Dear Dr. Blakeridge,
I am writing to you in regards to submitting my essay to Anthropology Today. I am an apprentice of Prof. Hieronyma, Dean of the Order Anthropology Department, and I would like to humbly submit my paper, "The Secrets of Thuricvod," co-written by my mentor, for consideration.
A brief abstract of it is below, and a full copy is attached. Thank you for your time.
Sincerely, Gabriella Order Sorceress and Apprentice Anthropologist
ABSTRACT
"The Secrets of Thuricvod" by Gabriella, Order Apprentice Anthropologist and Hieronyma, Dean of the Order Anthropology Department
An expedition to the ancient dwarven settlement, Thuricvod, has yielded tantalizing information about the "Great Shift," an event that led to the desertification of the Western Plains into the Shifted Sands. Scrolls found at the site refer to the Great Shift as a rift implosion triggered by the dwarves to seal our world off from the dwarven homeworld, Thur, and to collapse a rift to the Dark World. This act trapped many dwarves here, but cut Thur off from potential orc invasion. Interestingly, the dwarves, despite at that time not having settled any further east than Dusty River, had maps of the entire continent. On them, they refer to our world as "Thuric" or "Second Thur." The dwarves believed this world to be a second version of theirs, which perhaps reveals the true nature of the rifts--they are not portals between different worlds but between different versions of the same one. This paper explores how this theory revolutionizes anthropology and increases the probability of future orc invasions.
To: Gabriella Ministry Post Box 31 Ministry Outpost North Shifted Sands, Unclaimed Territory
Dear Gabriella,
Regretfully, I must inform you that Anthropology Today will not publish your essay. Good luck in your future endeavors.
Regards, Dr. Blakeridge Editor-in-Chief, Anthropology Today
To: Master Cygnus 1 Order Dr. Capital, Territories Humaine Dear Master Cygnus,
I'm in desperate need of your help. I have done something wrong, I think. After I tried to publish the paper I co-wrote with Prof. Hieronyma, strange things began happening. Hieronyma has been reassigned to an Oasis expedition, which we both know is a wild satyr chase. Documents have turned up missing at our camp, and both of our travel visas have been rescinded. I don't think we can come home.
Please help!
Best, Gabriella Order Sorceress and Apprentice Anthropologist
To: Gabriella Ministry Post Box 31 Ministry Outpost North Shifted Sands, Unclaimed Territory
Dear Gabriella,
I have inquired on both of your behalves, but there is little I can do. The Ministry and the Weavers have blacklisted both of you for sharing "secret" information.
As you know, after your apprenticeship in the Alchemy Wing, I began an internal investigation--which was halted by the Weavers and our government, the Ministry. However, I was somewhat relieved. I thought the Weavers would deal with the Alchemy Wing.
I see I was wrong. The Weavers shrouded the Alchemy Wing in secrecy and recommended to the Ministry that certain topics not be researched or discussed. Your paper broached one of them: future orc invasions. I suspect that orc invasions must be more probable than we know, though I don't know why they would hide that from the public.
Unfortunately, because you are blacklisted, you cannot publish or find a job--even in the Order. But I will continue to vouch for you. I have so far had a light touch with the Order and the Weavers, but now I will pull back the reins. For now, my advice is to follow Hieronyma and lay low in the Shifted Sands.
I am very sorry something like this has happened to you again. This is not the Order that I know.
Fortune Favor You, Master Cygnus The Master of the Order
To: Master Cygnus 1 Order Dr. Capital, Territories Humaine
Dear Master Cygnus,
Thank you for your honesty. It is a pity you are unable to help.
It angers me that the Ministry, the Weavers, and the Order have been secretly withholding vital information. This is very dangerous. What will we do if orcs invade?
The Weavers must be stopped and the truth exposed. I will find a way to the Dark World and bring back proof of a probable orc invasion and show it to the world!
Thank you for all your help, Master Cygnus, but I feel this is something I must do for everyone's sake.
Very Sincerely, Gabriella The Sorceress
RETURN TO SENDER: MESSAGE UNCLAIMED
To: Gabriella Ministry Post Box 31 Ministry Outpost North Shifted Sands, Unclaimed Territory
Dear Gabriella,
Do not travel to the Dark World! By spying on the Weavers I've learned the Dark World is without magic--but hungers for it. Its terrors will fly to you and the rift like a moth to a flame. You will hear voices and you will want power--because, slowly, the world will drain you and the rift's magic.
And that is why the dwarves of Thuricvod destroyed their rift and the Dark World's. They knew if the rift stayed open, orcs would pour into our world because ours is more magical even than Thur. Reconnecting our world to the Dark World would be catastrophic.
Please stay with Hieronyma. I agree this Weaver and Ministry nonsense must end.
Riftmaker Protect You, Master Cygnus
Lore from Character Bio
In the Bios there is a story line, most reference this story line. The story has some side plots that form branches. This Summary is part of the main plot and contributes to the Main Story Line
This is letters to and from Gabriella, after the events that occurred in Smolders Bio. It starts with Gabriella trying to get her paper, on what she discovered at Thuricvod, published in anthology today. We also get told she is now studying under Prof. Heironyma. The paper talks about the Dwarfs closing the rift back to their world, Thur. When they closed the rift, it caused an event called the Great Shift. They were also closing a rift to the dark world. The dark world, is the where the orcs come from. It then explains the possibility that the Rifts are not portals to other worlds, but parallel worlds where it is the same world but a different race lives there. Gabriellas paper then gets rejected and Prof. Heironyma is reassigned to a Oasis expedition (see Stinkeyes bio). Their travel visas have also been rejected. Gabriella is trying to get help off Cygnus. Cygnus informs her that she has been blacklisted for trying to publish information on future orc invasions. He also tells her that after the incident in the alchemy wing (Smolders Bio) the weavers and the ministry have covered up all the whole affair. The weavers then started pulling strings at the order, blacklisting professors and stopping research projects. Gabriella then decides to travel to the dark world to find evidence of the future orc invasions, planning to show the world what the Order is willing to hide. Cygnus then tries to warn her, to no effect, that the Dark World longs for magic, and the orcs that live there are drawn to magic like a moth to a flame. That Gabriella will hear voices and want power. And the true reason the Dwarfs closed the gate was to stop the orcs invading. I think this is the reason that Gabriella left the Order and became evil. Before the events of the original Orcs Must Die. Then Gabriella saying at the end of OMD2 lets rebuild the Order but do it right this time, refers to these events of the weavers covering up the orc invasions. Other points, Thuricvod village and gates of Thuricvod (AKA: corridors) are maps, corridors also appears in OMD2 as one of the places Cygnus, opens a rift at. Gabriella heading into the Dark World was the magic that Bionka wanted more of, so started the invasion. As detailed in Bionkas bio.

You can also read about the Main Story Line or other Lore of the Orcs Must Die universe.
Icon
Type
Name
Description
Damage
Cost
Cooldown (s)
Notes
Passive
Limitless Magic
Increases Gabriella's Unchained duration by 50%.
N/A
N/A
N/A
Primary
Thorn of Arcana
Fires rapid bolts of arcane magic.
???
0
0s
Secondary
Kinetic Pulse
Fires a blast of kinetic energy that deals damage to and knocks back enemies while instantly activating all traps in a cone in front of her.
???
65
16s
Range: 4. Fully recharges charge traps.
Third
Blink
Gabriella teleports in the direction she is moving, removing control effects on her. Heals Gabriella for 65% of her health.
0
50
10s
Range: 5.
Default Direction: Backwards.
Fourth
Devious Allure
Stops nearby enemies, putting them in a trance. Taking damage snaps them out of it, applying a slow instead.
0
50
12s
Duration: 3s. Slow Duration 3s.
Detailed View
Vanity
Preview
Description
Obtained In
Cost
Gabriella Epic Heroic Dye
Second Dye that can be applied to all Skins of the hero.
Grand Vanity Chest
750
Gabriella Life in Plastic
"Rift-injection molding is great. I literally cannot stop smiling." - Gabriella, The Redeemed Sorceress
Promotion of Boardgame Kickstarter
N/A
Gabriella Winter Witch
"'Tis the season for a little magic!" - Gabriella, The Redeemed Sorceress
Winter Vanity Chest
750
Gabriella Skull Ninja
"Has anyone noticed that you never see the Skull Ninja and Gabriella at the same time? Hmm." - Gabriella, The Redeemed Sorceress
Classic Vanity Chest
750
Gabriella Promising Prodigy
"It's my first day as an apprentice, and I feel like I could take over A WHOLE WORLD!" - Gabriella, The Redeemed Sorceress
Store
1250
Gabriella Violet Vintage
"Everything improves with age--especially me." - Gabriella, The Redeemed Sorceress
Starter Hero Vanity Chest
500
Gabriella Mistress of Illusion
"And for my next trick, I will make Maximilian disappear--permanently!" - Gabriella, The Redeemed Sorceress
Masquerade Vanity Chest
750
Gabriella Miracle Worker
"I cannot promise a miracle, but I will do what I can." - Gabriella, The Redeemed Sorceress
Promotion of Charity 24h Stream
N/A
Gabriella Frightfully Delightful
"Hm, so it's a jump to the left... And THEN a step to the right?" - Gabriella, The Redeemed Sorceress
Tough Guy Vanity Chest
Promotion
950
Gabriella Legendary Heroic Dye
Third Dye that can be applied to all Skins of the hero.
Starter Hero Vanity Chest
500
Gabriella Evil Ways
"Riftmaker knows I've got to change... baby." - Gabriella, The Redeemed Sorceress
Classic Vanity Chest
750
Gabriella Enchanted Armor
"This armor exudes power and strength... I like that." - Gabriella, The Redeemed Sorceress
Founder Pack (Alpha phase)
N/A
Gabriella Dragon Charmer
"I had the option of using real dragon scales, but why bother when we could use solid gold?" - Gabriella, The Redeemed Sorceress
Premium Shoppe
7500
Gabriella Blood Queen
"I'm your mistress no longer. Now, I'm your queen!" - Gabriella, The Redeemed Sorceress
Grand Vanity Chest
750
Gabriella Archmage of the Order
"All this power... I must use it wisely!" - Gabriella, The Redeemed Sorceress
Starter Hero Vanity Chest
500
Gabriella The Redeemed Sorceress
A talented sorceress, Gabriella is adept with arcane magic. Able to bend the will of both traps and enemies, she can turn the tide of battle quickly, overwhelming her foes.
By Default
N/A
Gabriella I Dream of Gabby
"Of course I'll grant your wish...for a price." - Gabriella, the Redeemed Sorceress
Costume Trunk
750
Hero Related Achievements
[
edit source
]
Kobold Runner "Despite my studies, I've never learned the dimension the kobolds came from. I kind of want to know so I can avoid it." - Gabriella, the Redeemed Sorceress
Kobold Pup "Pigeons are rats with wings, but these are... just rats. Really fast ones at that. No, thank you." - Gabriella, the Redeemed Sorceress
Speed Pad "Max, are you… are you making race car noises with your mouth?" - Gabriella, the Redeemed Sorceress
Overload Trap "I told the orcs if you shout 'ZERO-ZERO-ZERO-ABORT-ZERO!' at an Overload Trap, it will stop overloading. It's not true. There's no abort code. But it's fun to watch them try." - Gabriella, the Redeemed Sorceress
Summoner Trap "Come, servant. I've summoned you to kill orcs… But first, some tea, please? No sugar. There's a good lad." - Gabriella, the Redeemed Sorceress
Spike Wall "That… could have been VERY bad for my complexion." - Gabriella, the Redeemed Sorceress
Rental Parts "Professor Stipends are so LOW these days. I had to do SOMEthing." - Gabriella, the Redeemed Sorceress
Self-Improving Coil "Sadly, I know a few people who could use some 'self-improvement,' coils." - Gabriella, the Redeemed Sorceress
Discount Coil "Oo! I LOVE a good sale!" - Gabriella, the Redeemed Sorceress