Ivy
Ivy
Information

Affiliation:

Order

Base HP:

162

Mana:

200

Primary Attack Type:

Ranged

Primary Damage Type:

Physical

Speed:

???

Trap Affinity:

None

Cost in Store:

1250 or 9000
Ivy the Warden of The First Grove is a playable Hero in Orcs Must Die! Unchained.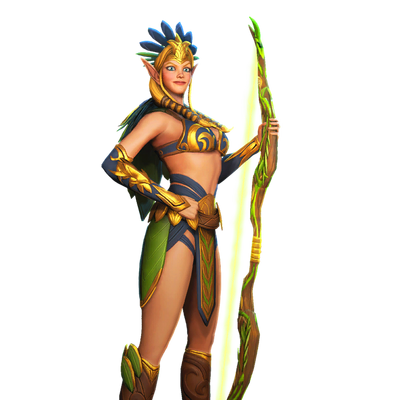 Ready for any fight, Ivy deals ranged damage and roots enemies to keep them in her sights. She can also heal her allies.
As the Warden of the First Grove, Ivy has sworn an oath to protect her allies. Her bow in hand, she calls upon nature to bind her enemies and heal those whom she calls friends.
Extended Character Bio
To: High Warden Naya Battlemaster of Sanctuary, the First Grove
Warden Naya,
It has come to my attention that my charge, Ivy, is to be expelled from Sanctuary and the First Grove. I understand she has destroyed the Skybridge and disrupted the lives of those living in the First Grove, but even so, she is much too valuable an asset to throw away. Please reconsider.
I respectfully await your response.
Warden Kynd
To: Warden Kynd Battlemaster of Valla, the Fifth Grove
Warden Kynd,
Well met, Warden. Regretfully, I must hold fast to my decision. She is powerful, but also angry and disruptive. I can no more contain her than I can a thunderstorm. Without discipline, she is not suited for the Calling. If her anger persists, she may very well be a danger not only to her fellow initiates but the citizens of the First Grove. As much as it pains me, as a Warden I cannot risk the safety of my people by keeping her here. Her expulsion from Sanctuary and the First Grove must stand.
May the Blessings of Our Lady Be with You, High Warden Naya
To: High Warden Naya Battlemaster of Sanctuary, the First Grove
Warden Naya,
I am a man of few words, High Warden. And I realize now that has created a barrier of misunderstanding between us. When I left Ivy in your charge, I was fresh off the battlefield and in no mood to talk. I should have told you the whole story.
Not only was I at the battle of Acacia, but so was Ivy. She stood with her parents as they defended their posts on Acacia's ramparts. When they fell, Ivy took their place; her fury willed the trees to hold fast the orcs as she shot them down. She would have remained there until the end if Warden Talos hadn't knocked her senseless. Even then it took the both of us to drag her away.
Ivy's losses would have demented a lesser person. Her power is only overshadowed by her will. She cannot be expelled. Someday, many seasons from now, those initiates she is "disrupting" may be alive only because she was there to lead them.
Warden Kynd
To Warden Kynd Battlemaster of Valla, The Fifth Grove
Good tidings Warden Kynd,
Bless you for bringing this to my attention. The poor child! She told me nothing of it. I understand her anger now. Perhaps more compassion in her tutelage is warranted. Ivy will stay in Sanctuary, and I will make her learn. A thunderstorm she may be, but a little rain never hurt anyone.
That being said, I counter your uncharacteristic optimism with my uncharacteristic cynicism. By "lead them" are you suggesting that she may one day be a Warden? I find that highly unlikely. A Warden must have an inner peace, a respect for nature, and a compulsion to protect life at the expense of her own. I only see the latter in Ivy--but she is young and perhaps you know something I do not.
I sense now your empathy for your fellow elves. The Meeting of the Groves is three days hence. You will be there, yes? There is another matter that I will bring up for a ruling; I'm sure you and I will see eye-to-eye on it!
Our Lady Guide You, High Warden Naya
Lore from Character Bio
In the Bios there is a story line, but a couple don't reference this story line. This is one of the cases. Lore summary from Bio:
This is a number of letters between the leaders of the first grove. Ivy is in trouble for destroying the Skybridge. She is going to be thrown out of the First Grove. One of her teachers is pleading for the high warden to keep her. (This warden is Kynd) He explains that Ivy's parents and Ivy fought in the battle of Acacia. (This was when Ivy was still a child) Ivy's parents fell, Ivy continued fighting, driven on by rage only stopping when a warden knocked her unconscious and then they dragged her away. After reading Ivy's story the High Warden Naya changes her mind and allows Ivy to stay in the first grove. (Sometime after this Ivy becomes a Warden of the first grove herself). Not sure if this happens before OMD1+ 2 or not, probably before.

You can also read about the Main Story Line or other Lore of the Orcs Must Die universe.
Icon
Type
Name
Description
Damage
Cost
Cooldown (s)
Notes
Passive
Elven Swiftboots
Ivy gains a tremendous movespeed boost whenever she spawns or respawns.
N/A
N/A
N/A
Primary
Ilyian Longbow
Ivy fires an arrow, dealing ranged, physical damage to enemies.
???
0
0s
Secondary
Penetrating Arrow
Ivy fires a powerful, piercing arrow that deals ranged, physical damage and knocks back enemies.
???
25
4s
Can slightly knock back heavy enemies.
Third
Life Current
Heals all nearby allies for several seconds.
0
45
20s
Duration: 6s.
Fourth
Reach of Roots
Roots entangle enemies, immobilizing them and decreasing their Physical Armor by -50. Immobilized enemies cannot move but can still use their abilities.
0
40
14s
Reduces Physical Armor of the enemies affected by 50 (+33% damage). Duration: 4s.
Detailed View
| Vanity | Preview | Description | Obtained In | Cost |
| --- | --- | --- | --- | --- |
| Ivy Epic Heroic Dye | | Second Dye that can be applied to all Skins of the hero. | Grand Vanity Chest | 750 |
| Ivy Legendary Heroic Dye | | Third Dye that can be applied to all Skins of the hero. | Tough Guy Vanity Chest | 950 |
| Ivy Enchanted Armor | | "I will wear this armor proudly. For my family!" - Ivy, Warden of the First Grove | Founder Pack (Alpha phase) | N/A |
| Ivy Flower Friend | | "What? I'm on leave, okay? Even wardens take vacations!" - Ivy, Warden of the First Grove | Grand Vanity Chest | 750 |
| Ivy Wicked Warden | | "Desperate times require desperate measures." - Ivy, Warden of the First Grove | Tough Guy Vanity Chest | 950 |
| Ivy Warden of the First Grove | | As the Warden of the First Grove, Ivy has sworn an oath to protect her allies. Her bow in hand, she calls upon nature to bind her enemies and heal those whom she calls friends. | By Default | N/A |
| Ivy Valkyrie | | "Tonight we RIDE!" - Ivy, Warden of the First Grove | Store | 1000 |
| Ivy Dragon Tamer | | "Though wild and defiant, even a dragon will yield when I demand it." - Ivy, Warden of the First Grove | Premium Shoppe | 7500 |
| Ivy Grovewatch | | "Cease your poolside running War Mage, I just healed you five minutes ago!" -Ivy, Warden of the First Grove | Endless Summer Chest | 650 |
| Ivy Imperial Ruby Archer | | "Houyi? His archery skills are no match for mine." -Ivy, Warden of the First Grove | Imperial Chest | 750 |
Hero Related Achievements
[
edit source
]