Midnight
Midnight
Information

Affiliation:

Unchained

Base HP:

220

Mana:

190

Primary Attack Type:

Melee

Primary Damage Type:

Physical

Speed:

???

Trap Affinity:

15% discount on Trip Wire

Cost in Store:

1250 or 9000
Midnight the Twilight's Razor is a playable Hero in Orcs Must Die! Unchained.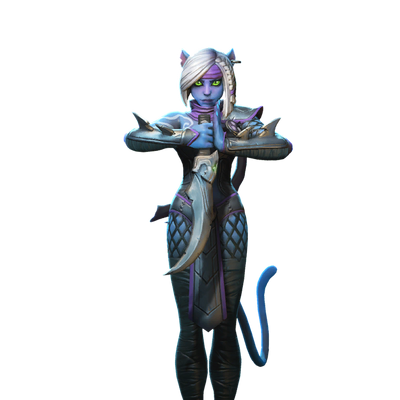 Midnight is a high-damage hero adept at avoiding detection. She lies in wait for her enemies, then attacks them with a burst of melee damage.
A trained ninja and a follower of the Path of Nine Lives, Midnight stalks her prey, waiting for the right moment to pounce. Attacking from the shadows, she shreds her enemies then slips quietly away.
Extended Character Bio
Darkness Guide you, Midnight,

I placed this journal in your pack because I knew you would leave. You are young, and I know you feel the ancient rules of the Path of Nine Lives are too restrictive. But you must put aside your kittenish ways and take up the collar of responsibility. I know it may seem as though I am always hard on you, Midnight, but I know you are destined to be my successor as the next Twilight's Razor.

And because of that, you must return. I am old, and I fear the rivals of the Nine Lives Dojo will descend on us soon. Without your help, I am not sure I can hold fast against them.

Please return--and quickly.

To help you on your journey back to the dojo, I have transcribed a few meaningful poems from The Lessons of Nine Lives in this journal. I encourage you to meditate on the poems and add your own thoughts to it.

Love throughout all lives,
Sensei Snowy, Twilight's Razor

That's just like Sensei Snowy to leave this journal for me. I guess I will use it. Maybe it will keep me from being lonely out here on my own. I've never liked poems though--or The Lessons of Nine Lives.

When the hunt begins,
the spirit soars on the wind,
and the mind roams free.
So take care when setting snares,
or they may be for your feet.

My sensei is always trying to "teach me a lesson." I'll never go back to the dojo, but I'll admit I learned this lesson the hard way.

I had just gotten my first contract as an assassin. I thought I was hot catnip. Some poor sap eloped with a rich merchant's daughter and the merchant wanted the new hubby gone. My patron, the merchant, told me that hubbykins took a stroll in the city garden every evening before sundown. Sounded dead easy. I set a snare for him and waited.

I saw him coming down the garden path--slowly. Really slowly. I've seen ninety-year-olds walk faster. He kept smelling the flowers and shuffling his feet. I got impatient so I left my cover and rushed at him… and right into my own snare.

Needless to say, he got away. He went into hiding, and it took me weeks to find him. I was on my last can of sardines when I finally got paid. If there's anything I miss about the dojo, it's three meals a day and a nice pallet to sleep on. But that's still not enough to make me want to go back. I don't need the dojo. I'm doing just fine on my own.

The shadow calls us.
We hide in her dark embrace.
Our wait is patient,
but shadows don't know when to strike--
that the cat then must decide.

Yes, and the "cat" must be awake to make that decision. I just had the worst assassin experience of my life staking out the hideout of the outlaw Copperhead Joe. Dusty River's sheriff had enough of him, and they put a hefty reward on his head. I hid outside his hideout in a tree and waited. Then a party started. There were hundreds of people there. I decided to wait it out. The tree was so comfortable I curled up for a cat nap.

When I woke up, I was face down at the bottom of the tree. One of Joe's goons was nudging me with his foot. Praise the Darkness, he thought I was a dancer from the night before. He invited me in for a "private" party and gave me some coin.

I walked right into the hideout and killed all of them. And I kept the extra coin. Patience does have its rewards.

But I'll admit I was scared. These people have no honor… I never know what they will do. At least at the dojo there's order. I miss Sensei Snowy's calm voice.

You may take their lives
and run your knife through their hearts--
even lick the blade.
Treat their deaths with due respect,
or none to you will be paid.

I feel very dumb. When I killed Copperhead Joe, I let my feline instinct to "play" with a kill get the best of me. He had a disturbing trophy collection of the heads and horns of many different animals. Revolting. I replaced them all with Copperhead Joe's body parts, reserving his head for the plaque that said "Wild Spotted Boar." He was a pig if I'd ever known one.

I wasn't aware that Joe had a sister--a very vengeful sister--who is good with crossbows… and half orc… and twice my size. She's been following me for weeks, and so I've been jumping at every noise and shadow. I mean, I'm a cat so I'm jumpy anyway, but this is ridiculous. Maybe the Path of the Nine Lives is the way to go. Maybe I should go back.

We cannot be caged.
A cat will slip from all bonds,
fading into night.
Remember, though, the greatest trap:
from death no one can escape.

Actually, I'd have to say the Order's dungeon is pretty hard to escape from. I was there for weeks. Apparently borrowing artifacts from their armory is frowned upon. I don't usually moonlight as a thief, but a wealthy mage paid me top coin to liberate a scroll from the collection of the Order's Master, Cygnus.

I underestimated the old man. I thought I'd gotten lucky, and he had died in his sleep, but he hadn't. He was lying in wait for me. Next thing I knew, I was locked up in a cell with only the smell of my singed fur to keep me company.

In the end, some Order ninny named "Max" put the wrong kind of oil on the torches and they exploded. In the confusion and darkness afterward, I was able to escape.

But my time in that dungeon gave me a lot of time to think. My sensei is right. I need to go home--to the dojo. I'm ready for something more meaningful than stealing and killing for coin. I should go back and take my rightful place by her side.

Cats must go explore
It is their nature and blood;
they must abide it,
but they must not stray too far
and honor their senseis always.

I have returned too late. The Nine Lives Dojo is in ruins, destroyed by my sensei's rivals. She died trying to defend it. If only I had been there!

I don't even remember why I left. Was it all the rules? Was it the curfew? All of that seems so silly and kitten-like to me now.

I must honor my sensei as is required by the Path of Nine Lives. I will take up the title she wanted for me: Twilight's Razor. I hope she will know it and smile on me from the Unending Darkness.

From now on, I am Midnight, Twilight's Razor.
Lore from Character Bio
In the Bios there is a story line, most reference this story line. The story has some side plots that form branches. This Summary is part of the Midnight branch Side Story:
This Summary continues the side story from Deadeye Lore.
This is a journal given to Midnight by her master Snowy, when Midnight left the nine lives dojo, it contains poems and Midnight uses it to record her deeds. Snowy didn't want Midnight to leave. Midnight then records her missions. Her first mission is to kill a man who fell in love with a merchants daughter. The merchant wants him out of the equation. Midnight then takes up the bounty that sheriff Macken put on Copperhead Joe (From Dobbins bio/Brass). Kills him but is being chased by Joe's sister a half orc with crossbows (See Deadeyes Bio). Midnight is then hired to steal a scroll from Cygnus, She gets caught by Cygnus and thrown in the Orders dungeon. She then escapes when Maximilian puts the wrong oil in the torches (see Maximilian and Blackpaws bio: chicken incident). Midnight then goes back to the nine lives dojo, only to find Snowy dead, killed by her rivals. She then takes up the name Twilight's Razor. Based after OMD 1+2.
This side story Ends here.

You can also read about the Main Story Line or other Lore of the Orcs Must Die universe.
Icon
Type
Name
Description
Damage
Cost
Cooldown (s)
Notes
Passive
Sucker Punch
Midnight deals 50% more damage to stunned targets.
N/A
N/A
N/A
Primary
Shadow Swipe
Midnight slashes with her dagger, dealing damage. Attack deals extra damage to immobilized, or stunned enemies.
???
0
0
Secondary
Vital Strike
Midnight executes an acrobatic melee attack that deals heavy damage to its target and deals damage over time.
???
0
4s
Third
Dash and Slash
Midnight dashes forward, slashing every enemy she passes through.
???
0
10s
Fourth
Prowl
Midnight slips into the shadows, dropping all aggro and moving at increased speed. If she attacks, she reappears and her attack stuns its target.
0
15 + 3/s
3s
The attacks that make her reappear deal 50% more damage.
Detailed View
| Vanity | Preview | Description | Obtained In | Cost |
| --- | --- | --- | --- | --- |
| Midnight Epic Heroic Dye | | Second Dye that can be applied to all Skins of the hero. | Grand Vanity Chest | 750 |
| Midnight Legendary Heroic Dye | | Third Dye that can be applied to all Skins of the hero. | Costume Trunk | 750 |
| Midnight Shiver Me Whiskers | | "Coin, fish, swordplay--piracy would be purrfect if it wasn't for the whole sailing-on-water thing." - Midnight, Twilight's Razor | Grand Vanity Chest | 750 |
| Midnight Twilight's Razor | | A trained ninja and a follower of the Path of Nine Lives, Midnight stalks her prey, waiting for the right moment to pounce. Attacking from the shadows, she shreds her enemies then slips quietly away. | By Default | N/A |
| Midnight Hidden Tiger | | "I must channel the aspect of the tiger!" - Midnight, Twilight's Razor | Store | 1250 |
| Midnight Cat Burglar | | "Purrrloining your coin...and tuna, if you have it." - Midnight, Twilight's Razor | Costume Trunk | 750 |
| Midnight Wu Xing Azure Assassin | | "I may not be of Hua Mewlan's lineage, but I honor her as an ancestor of my martial art." -Midnight, Twilight's Razor | Imperial Chest | 750 |
Hero Related Achievements
[
edit source
]
Flip Trap "They fly like birds… But then they fall right into my paws. Purrrfect." - Midnight, Twilight's Razor
Pride Hunter "Pride hunters have no pride. They do not follow the Path of Nine Lives!" - Midnight, Twilight's Razor
Ambush Trigger "You must always wait for the purrrfect time to pounce." - Midnight, Twilight's Razor
Bounty Generator "All those bounties. All for me... ow." - Midnight, Twilight's Razor
Kinetic Reclaimer "It's impolite to play with your food--but it's SO fun." - Midnight, Twilight's Razor