Smolder
Smolder
Information

Affiliation:

Unchained

Base HP:

313

Mana:

290

Primary Attack Type:

Ranged

Primary Damage Type:

Fire

Speed:

???

Trap Affinity:

Free placement Naphtha Sprayer

Cost in Store:

1250 or 9000
Smolder the The Fireborn is a playable Hero in Orcs Must Die! Unchained.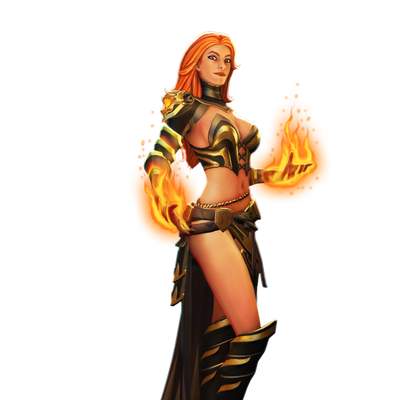 Smolder wields fire magic in the form of powerful ranged and area abilities. She can also resurrect after death.
Smolder excels at destroying large groups of weaker minions. Use Heart of Flame to set a group of enemies on fire just by running past them. Then, use Incinerate to reduce them to dust.
With power only equaled by her rage, Smolder uses her dominion over fire to burn hoards of her enemies to cinders. But, unlike her, her foes will not rise like a phoenix from their ashes.
Extended Character Bio
EVIDENCE FILE: ARTICLE ONE - LOG OF [REDACTED], ORDER APPRENTICE

Dear Master Cygnus,

As you requested, attached are my log entries pertaining to [REDACTED]'s experiments. I hope they aid you in your investigation.

Also, thank you for being there when I needed you.

They are as follows:

LOG ENTRY 1
DATE: [REDACTED]
EXPERIMENT CODENAME: BIGBIRD

This is my first time in the lab and it is all very exciting. [REDACTED]'s work in the advancement of resurrection potions is an inspiration to me; it is an honor to work with him. One day, I hope I can be a Master Alchemist like [REDACTED].

The lab was very neat and orderly. His elaborate alchemy set was meticulously kept in working order, already bubbling away even though it was barely morning. He seemed surprised and pleased that I was early and asked me to help him set up an incubator. He didn't have any containers that were the right size, so I went to my dormitory to fetch a hatbox from my closet. I'm so glad that I was able to help.

I finally found the nerve to ask what the incubator was for. I could hardly believe his answer. [REDACTED] somehow has gotten ahold of a phoenix egg! I couldn't believe it. I'm going to be in the presence of a living, breathing phoenix. And of course--If you want to improve a resurrection potion, study a phoenix!

I'm so glad I took this apprenticeship!

END LOG 1

LOG ENTRY 12
DATE: [REDACTED]
EXPERIMENT CODENAME: BIGBIRD

After almost two weeks, the egg finally arrived. I should be excited, but I'm a little bit suspicious of its origins.

I recognize the man who delivered it. I have seen him in the bazaar, or, more accurately, in the back alley behind the bazaar. He's one of those men who can find you "whatever you want."

But that's not all--the egg is larger than what is described in Hester's Guide to Magical Flora and Fauna. Whatever it is, the incubator was not big enough for it. I had to go down to the cellar to fetch an empty wine cask.

END LOG 12

LOG ENTRY 13
DATE: [REDACTED]
EXPERIMENT CODENAME: BIGBIRD

I came in this morning to find [REDACTED] slumped over in his chair. He stayed here all night watching the egg. I woke him and told him he should go get some rest, and that I would alert him if the egg started hatching. He reluctantly agreed and shuffled off to bed.

I have heard rumors about [REDACTED], but I'm not sure I believe them. Some of the other alchemy students told me that because he hasn't made a major breakthrough in a few years, his department may demote him from his Master Alchemist position. I can't believe they'd do that. The man's a genius.

But it does explain his obsessive behavior.

I can't say that staring at an egg all day is my idea of fun, but I guess I'll do anything in the name of alchemy. Next time, I'm bringing some of my books. Final examinations are a few weeks away--it's never too early to start studying!

After a few hours, [REDACTED] came to relieve me. He plans to watch the egg all night. Such dedication!

END LOG 13

LOG ENTRY 31
DATE: [REDACTED]
EXPERIMENT CODENAME: BIGBIRD

I came in this morning and found [REDACTED] looking especially haggard. I told him to go get some sleep, but just as he was leaving, the egg began to hatch.

Both of us rushed over and found that a small portion of the egg's shell was missing.

We lifted the egg out of the incubator and placed it on a table. After a few minutes, a large crack appeared in the middle of the shell. The chick pressed against the shell's inner membrane, breaking it. Water and a red liquid (blood?) seeped out. After a few more jolts, the chick widened the crack and stuck out what appeared to be a featherless leg.

When the "chick" finally emerged, it was not a chick at all--it was a redheaded, female child of about three years of age. The only thing that marked it as not human was a strange beak-and-egg-tooth protuberance over her nose and mouth. The child reached out to me, and my maternal instincts took over. I wrapped her up in my lab coat. [REDACTED] screamed at me to put the child back.

I'm not sure what happened next, but fire erupted from the child. Without thinking, I cast a mild mind-control spell on her to calm her down.

[REDACTED] went off on me. "It's not a child," he said, "It's a phoenix in disguise." He claims phoenixes have telepathic powers and play on the emotions of others by appearing in human form. I don't remember that from Hester's Guide, but the child did burn me and she does have a beak. But then again, a low-level mind control spell shouldn't work on a "magical" beast.

[REDACTED] has ordered me to leave the lab and come back tomorrow. I suggested that he needed sleep, but that made him angrier. I hope his need for success is not clouding his judgement.

END LOG 31

LOG ENTRY 35
DATE: [REDACTED]
EXPERIMENT CODENAME: BIGBIRD

For a few days now, we have been doing standard tests on the phoenix. I've been taking her vitals, checking her reflexes, feeding her, and when [REDACTED] isn't watching, playing with her. Even with the beak, she has a beautiful smile, and her little red curls are adorable. I've named her Smolder after the 2,000-year-old mythical phoenix matriarch.

I don't think [REDACTED] thinks she is cute. He says he is tired of the phoenix "hiding its true nature." I'm beginning to doubt it is a phoenix. Wouldn't it have revealed itself if it was?

My last final examination is tomorrow and I have a carriage ticket home that evening. [REDACTED] has given me his blessing to go home, but I'm a little afraid to leave Smolder alone with him for the three weeks between quarters.

END LOG 35

LOG ENTRY 36
DATE: [REDACTED]
EXPERIMENT CODENAME: BIGBIRD

I came back to the lab to find that Smolder has lost her beak and is aging at an accelerated rate. She appears to be five years old now and has learned to speak. While I was gone, [REDACTED]'s methods have changed. It appears as though he is not allowing the phoenix to sleep. He has constructed a sensory deprivation chamber for her out of the wine cask. There are scorch marks all over the walls. I can tell Smolder is terrified of him.

He had her strapped down to a table. I asked him calmly what he was doing, and he told me he was trying to induce the phoenix to manifest its true form. Smolder started crying and shouting, "I can't, I can't!" and [REDACTED] told her to be silent. Then, he plunged a knife into her chest. I screamed and ran to her, but she burst into flames leaving only ashes. But then the ashes reformed and she reappeared, sobbing.
"See? It's the same EVERY time!" he said. I said some things to him I wasn't proud of.

[REDACTED] told me to never come back to the lab.

Whether Smolder is a phoenix or not, she does not deserve this treatment.

I feel I must speak to someone I trust. Perhaps Master Cygnus can sort this out. It's late, but I'm sure he'll be back in the morning.

END LOG 36

LOG ENTRY 37
DATE: [REDACTED]
EXPERIMENT CODENAME: BIGBIRD

I was speaking to Master Cygnus in his office when we both heard a loud explosion. We learned it came from [REDACTED]'s lab.

When we got there we found the outer wall of the lab was gone, and the floor was a cinder. The explosion was so focused and hot that [REDACTED]'s alchemy set was a puddle of molten glass on the floor.

If he was in here, I don't think he could have survived. And I don't think Smolder wanted him to. On the wall, scorched into the brick, was a message: "YOU WILL BURN!"

What has he done?

END LOG 37

That's all I have that is relevant.

I know I should be reassigned to another alchemist, but I don't think I want to set foot in the Alchemy Wing again. I would prefer to be assigned to Order Anthropologist [REDACTED] in the Anthropology Department. I have heard she is leading an expedition to excavate the ruins of the dwarven city Thuricvod, and I'd like to join her. I feel getting away for a while might be what I need.

Best Wishes,
[REDACTED], Order Apprentice

ENENCE FILE

Lore from Character Bio
In the Bios there is a story line, most reference this story line. The story has some side plots that form branches. This Summary is part of the main plot and contributes to the Main Story Line
These are log entries written by Gabriella, About Smolder being born and brought up through a few weeks, and having to suffer under the professors experiments. In the end Smolder cannot suffer under the professors experiments any longer and breaks free and escapes the order. Also the logs have been edited by the weavers/ the ministry to remove names of those involved. The women taking the apprenticeship uses a mind control spell on Smolder when she first hatches. Gabriellas main magic is mind control. Then at the end of the bio she says about moving out of the alchemy wing and moving to the Anthropology department studying the ruins of Thuricvod. In Gabriellas bio she is writing a piece on Thuricvod after studying it. The Professor could be Oziel for a number of reasons. Oziels bio is him turning to darkness, looking for power. Joining the Order and then looking for eternal life. The Professor in Smolders story, starts looking for solutions to resurrection potions. In Smolders bio he is looking for a breakthrough or he might be demoted. I'm not sure on him being Oziel though, about 50%. I know that the weavers edited the notes because Cygnus says he handed them over to the weavers and ministry and they covered up all evidence. That is explained in Gabriellas bio. This bio is based after OMD 1+2.

You can also read about the Main Story Line or other Lore of the Orcs Must Die universe.
Icon
Type
Name
Description
Damage
Cost
Cooldown (s)
Notes
Passive
From the Ashes
Smolder explosively resurrects after death, dealing fire damage in a radius and regaining 40% max health and 50% max mana.
???
0
90s
Primary
Fireball
Smolder fires a ranged, slow-moving ball of fire.
???
0
0
Secondary
Dragon's Breath
Smolder channels fire at her enemies, dealing damage. Ability is active as long as the button is held or until she is out of mana.
???
15/s
0s
Third
Heart of Flame
A flaming Smolder deals fire damage in a radius around her and moves 15% faster until out of mana. Can be deactivated.
???
10/s
3s
Fourth
Incinerate
A fiery tornado deals damage to nearby burning enemies. A damage bonus is applied as Smolder levels.
???
30
10s
Range: 10. Can be used with minions burning from Traps and Gear.
Detailed View
| Vanity | Preview | Description | Obtained In | Cost |
| --- | --- | --- | --- | --- |
| Smolder Epic Heroic Dye | | Second Dye that can be applied to all Skins of the hero. | Grand Vanity Chest | 750 |
| Smolder Legendary Heroic Dye | | Third Dye that can be applied to all Skins of the hero. | Endless Summer Chest | 650 |
| Smolder Firestarter | | "Even dragons can burn." - Smolder, the Fireborn | Store | 1000 |
| Smolder Kill-auea | | "Don't you just lava good bikini?" - Smolder, the Fireborn | Endless Summer Chest | 650 |
| Smolder The Fireborn | | With power only equaled by her rage, Smolder uses her dominion over fire to burn hoards of her enemies to cinders. But, unlike her, her foes will not rise like a phoenix from their ashes. | By Default | N/A |
| Smolder Helter Swelter | | "Do you smell something burning? Oh, wait, that's just me." - Smolder, the Fireborn | Grand Vanity Chest | 750 |
| Smolder Five-Alarm Femme | | "Where there's smoke, there's... me!" - Smolder, the Fireborn | Costume Trunk | 750 |
| Smolder Wu Xing Dragon Mage | | "Zhu can never go Rong with fire!" -Smolder, the Fireborn | Imperial Chest | 750 |
Hero Related Achievements
[
edit source
]
Fire Wall Bracers "Everything's better with a little fire." - Smolder, the Fireborn
Naphtha Sprayer "Mm, I LOVE the smell of naphtha in the morning." - Smolder, the Fireborn
Fire Resonator "I just want the world to burn." - Smolder, the Fireborn
Heat Activated Trigger "Let THEM feel the heat!" - Smolder, the Fireborn
Revenge Rune "This rune understands me." - Smolder, the Fireborn