Stinkeye
Stinkeye
Information

Affiliation:

Unchained

Base HP:

356

Mana:

200

Primary Attack Type:

Ranged

Primary Damage Type:

Arcane

Speed:

???

Trap Affinity:

+25% damage with Arcane Bowling Ball

Cost in Store:

1250 or 9000
Stinkeye Shaman of Oasis is a playable Hero in Orcs Must Die! Unchained.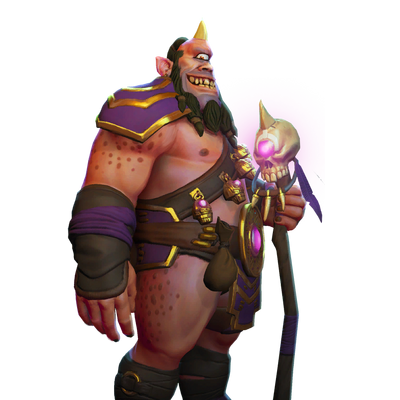 Stinkeye deals arcane damage and uses his totems to attack and slow enemies while aiding his allies. Arcane users reduce the enemy's arcane armor with every attack by 12 points, for a maximum of -60 (+37.5% damage).
Favored by Oasis, Stinkeye has the ability to conjure magical totems. Strategically placing the totems for maximum carnage, Stinkeye is a powerful ally--if his teammates can stand his powerful body odor.
Extended Character Bio
The Book of Stinkeye, the Shaman of Oasis
Chapter I
MY ONE-EYED BRETHREN, heed my words! I, Stinkeye, Shaman of Oasis, knows your plight. I know you feel lost. This place, the world of the humans, does not seem like your home. You wander, drawn to the desert, without knowing why. You don't touch water, and so the two-eyes tell you that you smell bad. And you feel like you are less, because you have one less eye! I know those awful thoughts. I know those questions! But now I know the answers, and I know to stand tall because I have heard the WORD of our ancestors. Let me, my brothers and sisters, tell you the good news of THE OASIS.
Chapter II
I WAS DRAWN to the desert, like many of us are. We are at home in the heat and need little water. We even dislike the feel of water on our skin. I became a bodyguard for a treasure hunter looking for remnants from before the Great Shift: dwarven artifacts, ancient orc weapons, or even clues to finding the legendary Oasis. One day, as we were walking in the desert, the sky darkened. We realized that a sandstorm was on the horizon. I have seen many sandstorms, but this one was different. It was kilometers wide and crackling with energy. It made the hair on my beard stand up.
We pitched our tent, hoping it would give us some protection. We huddled together, wrapped in the hoods and long garments we used to keep the sun from burning us and sand out of our mouths and eyes. The tent seemed like it would hold, but then it became so dark that neither of us could see. The wind howled, and the tent was ripped up and away.The sand slammed us like a wall, pushing us away from one another. We tried to stay together, but the desert was flying around us.
I lost my boss and started wandering around aimlessly, looking for shelter. Ahead of me, I saw a giant stone door half buried in the sand. I pushed on it and it opened. There was a corridor behind the door leading down under the desert. With the storm at my back and no sign it would stop, I stumbled in and closed the door behind me. I was so tired from fighting the storm, I sat down in the corridor and fell asleep.
Chapter III
IN MY DREAMS, I heard laughter. When I awoke, a totem was standing next to me, a skull perched on top of it. As I reached for it, it laughed and vanished, appearing down the corridor, deeper in the dunes. I followed it. It led me to a huge room. Or at least I thought it was a room. There was a sun overhead, but it was a different color. It should have been day, but the sky was dark. Threads of pink magic swirled through the sky and the ground. Plants grew out of it like lilies in a pond. . A four-winged, long-necked bird landed next to me. It studied me with its one eye! And in the middle of this room was a large, black pyramid. On top of it was an enormous one-eyed crystal skull.
As I went towards it, the skull began to speak. "Welcome, cyclops. How may I address you?" I told it my name. "Stinkeye. Hmm. I guess you'll have to do." The skull opened its mouth again and magic poured out, rushing over me. I never felt so alive. I knew it had given me great power. A staff appeared from inside the pyramid. The skull bid me to take it. 1"I have long traveled," it said, "looking for my creators. I have found you instead. Pity, but I have little power left. You must carry out my mission. You must be the last shaman. The Shaman of Oasis." 1I asked the Oasis what it meant. It made a sound like the sound a mother makes when she must explain something simple to a child. 1"I am Oasis. Your ancestors sent me across dimensions and space to find their descendants, scattered by the Great Shift. 1This is what your world looked like. It is no more. It was greatly blessed by the power of the rifts, but the rifts also tore it apart."
1For hours I asked it many questions. I learned much about our people and our ancient culture. 1Finally, the skull fell silent. The ground began to shake and Oasis told me it had to go.
Chapter IV
AS I STEPPED outside the stone doors, they disappeared behind me. The Oasis may appear again, it said, but it must recharge and refuel. In the meantime, it told me, I must gather all cyclopes together, lead them, and share my power and the wisdom of Oasis. So follow me, my brothers and sisters! Learn the magic of our ancestral totems and the power of Oasis, and heed my proclamations. You are not lesser than the two-eyes. One eye means you see straight. You see truth! Walk tall. Your people were proud and had powerful magic. They are lost today, but we are not! Be kind to one another--even in death! We know our spirits have power. Aid your brethren, even if you fall. Do not listen to the two-eye. You are NOT ugly, and you smell FINE. Baths are not necessary for cyclopes. We have no need for water. We bathe in MAGIC instead! And most importantly: band together! Only as a people can we carve our destiny out of this desert and reclaim our former glory! Your shaman, Stinkeye, commands it!
Lore from Character Bio
In the Bios there is a story line, most reference this story line. The story has some side plots that form branches. This Summary is part of the Prof. Heironymas adventures branch Side Story:
Start of the branch:
This is a Account written by Stinkeye, to the rest of the cyclops race. About how he found Oasis the ancient city of the Cyclops race and became the last shaman of Oasis. Like most Cyclops he was drawn to the desert. Stinkeye then became a bodyguard for a treasure hunter looking for remnants of artefacts from before the great shift and the city of Oasis ( quick notes: the great shift was explained in Gabriellas bio, and I think that this treasure hunter is Prof. Heironyma, since he came looking for Oasis and he knew about the great shift, I'm about 40% sure). Stinkeye is separated from this treasure hunter during a magical sandstorm. He then finds a giant stone door buried in the sand and pushes it open, discovering a corridor under the sand. Stinkeye then falls asleep, only to be awaken by totem laughing at him. He reached out to take it only for it to disappear and reappear further down the corridor, leading him down the passage, to Oasis itself. Stinkeye sees great wonders from Oasis. He was led to a giant Black pyramid with a skull on top asking him his name. Then it spewed huge amounts of magic onto Stinkeye. A staff appeared in the pyramid and Stinkeye was beckoned to take it. The staff then said it was running out of magic and declared Sinkeye the last shaman of Oasis. Stinkeye was confused and Oasis answered "your ancestors sent me across dimensions and space to find their descendants, scattered by the great shift. This is what your world looked like. It is no more. It was greatly blessed by the power of the rifts, but the rifts also tore it apart."(See Yi-Lins Bio) After many more questions Oasis fell silent, only to appear once it has recharged. Stinkeye was then sent to gain followers of Oasis. So his book was written to proclaim the message to other cyclops. To read what happened during the Great Shift see Yi-Lins Bio. I also think that every race has a world where they come from, well apart from the humans who own Centre.
This side story continues with Hogarth Lore.

You can also read about the Main Story Line or other Lore of the Orcs Must Die universe.
Icon
Type
Name
Description
Damage
Cost
Cooldown (s)
Notes
Passive
Shaman's Blessing
After a totem expires, Mana Orbs appear at the totem's previous location.
N/A
N/A
N/A
Primary
Prestidigitized Projectile
Stinkeye fires ranged arcane projectiles from his staff.
???
0
0
Secondary
Arcane Anomaly
Conjures an orb of arcane energy that charges and then detonates, dealing arcane damage in a radius.
???
65
8s
Third
Wrath of Oasis
Summons a totem that when shot with primary attack (Prestidigitized Projectile), shoots 3 projectiles at nearby enemies. Lasts 20s.
???
25
10s
Placement Range: 5.
Fourth
Zephyr of Oasis
Summons a totem that increases the movement speed of allies and slows the movement speed of enemies. Destroying the totem stuns enemies for 3s.
0
25
18s
Hero Related Achievements
[
edit source
]