Temper
Temper
Information

Affiliation:

Order

Base HP:

500

Rage:

rage

Primary Attack Type:

Melee

Primary Damage Type:

Physical

Speed:

???

Trap Affinity:

None

Cost in Store:

1500 or 12000
Temper the Rage of the Forge is a playable Hero in Orcs Must Die! Unchained.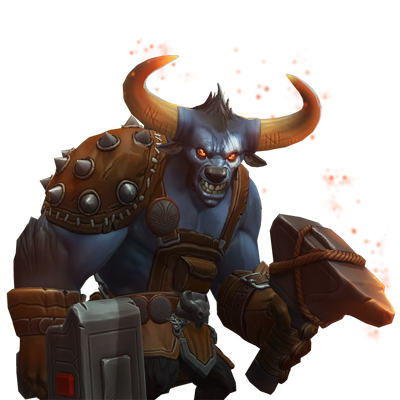 Using rage instead of mana, Temper deals explosive fire damage and hammers enemies into submission.
Often surprised by his own anger, this usually mild-mannered minotaur blacksmith now focuses his fiery anger towards defeating the Unchained. One day, he hopes to return to his dwarven family and his home.
Extended Character Bio
From the Desk of Dr. Ramawaron
Order Institute of Therapeutic Services and Support

Session: 1
Patient: Temper
Notes:
When Gemma and Lodevic, a dwarf couple, came to me to set an appointment for an anger management session for their ten-year-old son, I was expecting to counsel an angry young dwarf--not the adult minotaur, Temper, who walked into my office today.
I'll admit to being a bit flustered, but I asked him to sit and define for me his reasons for being there. He seemed anxious but genuinely interested in getting help with his anger issues.
He told me that ever since his parents found him in a burnt-out field ten years ago, he's had a bit of a, well, temper. However, even from an early age, he had been able to focus his rage into his talent for blacksmithing. He excelled at it, so much so that the dwarves began calling him, "The Rage of the Forge." He was proud of the moniker and proud of the service he was performing for the dwarves.
Unfortunately, recent events have put Temper's time with the dwarves in jeopardy. In his own words, "He picked the wrong time to go and have a dust up." The crown prince of Arctos, Tundra, came to Dusty River to meet with the dwarves. In an act of goodwill towards their allies, the Territories Humaine, Tundra was traveling to areas where Unchained attacks were frequent pledging their help and support. At a benefit dinner in Tundra's honor, one of his speeches about the terrors of the Unchained went a little long, and Temper began to feel, as he put it, "Hangry."
With the discussion of the threat of the Unchained, his hunger, and, finally, a small child good-naturedly starting to make faces at him, Temper said he, "Kinda became like the bull in a china shop everyone talks about."
Temper recalls stomping much of the dwarves' fine china in his table-flipping, stampeding tantrum. Tundra himself had to come over and cool him down. After a few hours "on ice," Temper was told that he would be banished from the dwarven mines of Dusty River if he could not contain his anger.
The seriousness of the consequences of not being able to help the poor man made me want to help him even more. I began discussing his treatment immediately, showing him how to do breathing exercises to calm himself. We spent the remainder of the session practicing these exercises, and at the end, Temper said he already felt better. I have scheduled another session for him in two weeks.
For next session, I must remember to switch couches with Dr. Wiffenbottem. Her couch is a garish floral, but I don't think making Temper sit on my leather couch would be… sensitive to him, even though he didn't seem to notice.
I will also ask him more about his childhood and about the Unchained. This may be a point of agitation for him.

From the Desk of Dr. Ramawaron
Order Institute of Therapeutic Services and Support

Session: 2
Patient: Temper
Notes:
I have met once more with Temper, the minotaur raised by dwarves who has anger management issues.
I started by asking him how his breathing exercises were going, and he sheepishly told me that he had thrown a hammer at someone. He bawled as we discussed it, moo-crying in a most distressing way. I decided to let him cry it out. I gave him a box of tissues… and another… and another… and another… He finally used all of my stock before he stopped.
Once he had himself under control, I asked him what had made him angry this time. He told me he wasn't sure. "I'm usually purty happy hammerin' out shields, swords, armor, trap parts, and whatever else a dwarf needs, but I guess it's the fixin' that's gettin' to me," he said. When I asked him to explain, he said he was tired of having to fix what the Unchained had done to his friends' armor "And see what they've done to my friends!"
As he told me this, the room started to grow hotter and his horns began to glow with heat. I had to think of something quickly to calm him down. Making it up as I went along, I began to dance--badly. It seemed to confuse him and take his mind off his anger, so I continued. He began to dance with me. He was surprisingly limber for someone so beefy and who had hooves for feet.
I explained to him the concept of "dancing it out" and finding his "happy place." For him, of course, it was his dwarven home and his forge. He called me the "Best goldern doctor" he'd ever had. I told him my analysis of the situation: that the conflict with the Unchained may be the root of his problem. I posited that perhaps he feels ineffectual because he is not actively fighting against the Unchained.
He seemed to take the analysis well, and told me he'd "Think about it a piece" and see me next time.
I do hope Dr. Wiffenbottem does not want her couch back. There is now a perfect burnt outline of a bull's derriere and tail on it. Perhaps I'll take this as an opportunity to get it recovered for her. It is [i]such[/i] a horrible print.

From the Desk of Dr. Ramawaron
Order Institute of Therapeutic Services and Support

Session: 3
Patient: Temper
Notes:
Today's session was a sad one, but I am glad that Temper has seemingly found some closure. Although reluctant to hurt "Even a lil' ol' fly," Temper realized he could no longer live amongst the dwarves due to his "Ravin' and ragin.'" He has decided to set out on his own and fight against "those varmints" the Unchained. I told him that perhaps that was for the best, but that he should still strive to contain his anger, so that he could return periodically to the dwarves. He agreed, and I spent the rest of the session teaching him meditation techniques.
At the end of the session, I scheduled a few more appointments for him far in the future. I wished him the best, and I sincerely hope that he finds peace and purpose in his fight against the Unchained.
Lore from Character Bio
In the Bios there is a story line, most reference this story line. The story has some side plots that form branches. This Summary is part of the Tundra branch Side Story which take place before Bionka's Invasion:
Start of the branch:
This is an account of the meetings Temper has had with his anger management counsellor. Tempers Dwarf parents set up a meeting because Temper raged during a meeting with Tundra at Dusty river (This is where Dobbin lives and Tundra going to meet with Order allies is part of the main plot). The counsellor learns about Tempers childhood. Temper was found as a child 10 years ago in a burnt out field. He was then adopted by his dwarf parents, and trained under the dwarfs to be a blacksmith. Tundra came to Dusty River to pledge support against the unchained, during the feast Temper went off on an angry rage against the Unchained. As a result Tundra had to freeze him. During the next meeting with the counsellor, Temper has come again because he got angry and threw a hammer at someone. The counsellor then teaches Temper some exercises to keep his anger under control, by finding his "Happy Place". The counsellor then recommends that Temper uses his anger against the Unchained. In the final meeting with the counsellor Temper, says he has started fighting his own battles against the Unchained and has left the dwarfs that he lived with. This is based after OMD 1+ 2.
This side story continues with Cygnus Lore.

You can also read about the Main Story Line or other Lore of the Orcs Must Die universe.
Extra Lore
After Intense Anger Management Sessions, the Game's Most Notorious Tantrum-Thrower Returns
Eventide Fortress, Territories Humaine – February 16, 2017 – After a long struggle with barely-controlled anger issues, controversial minotaur Temper is set to be released Tuesday morning from the Order Institute of Therapeutic Services and Support facility at Eventide.
"Mr. Temper is very remorseful about what happened," a spokesperson told media gathered today at Eventide Fortress. "Despite the doubts that many dwarves now have about him, he's eager to begin his new life defending the Order Fortresses from orcs and other monsters. He wants to prove that he now has many valuable 'Happy Places' at his mental disposal to help keep his rage in check. We truly believe that he's a changed minotaur, and urge everyone to not believe what they read in 'fake news' articles about his struggles." Temper himself issued a terse "no comment" when questioned by reporters.
The event referenced by Temper's spokesperson dates back two years, when Temper – a trained blacksmith – succumbed to what he called "Hanger" and started a fight with Order hero Tundra during a diplomatic meeting. Temper has always maintained that the injuries suffered by the Arctic Prince were accidental, but eye-witnesses described the half-man-half-bull as going on an explosive rampage over a lack of vegetarian options on a lunch menu.
The unusually long stay at the Order Institute of Therapeutic Services and Support has cast a shadow over Temper, with critics of the Order's only minotaur suggesting that the length of the stay was specifically tied to Temper's inability to calm his own rage. Adopted and raised by Dwarves at an early age, it has long been speculated that Temper simply lacks the demeanor to adequately participate in Order defense operations with other more delicate creatures. With a war raging for the rifts, many would argue that Temper's temperament is just what the Order… ordered.
Icon
Type
Name
Description
Damage
Cost
Cooldown (s)
Notes
Passive
Rage of the Forge
Temper gains strength as he builds rage, exploding at max rage and damaging and knocking back enemies.
???
250
0s
It can slightly knock back heavy enemies.
Primary
Swing! Punch! Smash!
If used in quick succession, Temper anvil punches, swings his hammer, and delivers an uppercut, building his rage.
???
0
0s
Gives 10 rage per hit. 3rd hit deals more damage.
Secondary
Exploding Hammer
Temper throws his hammer. On impact, it knocks back and damages enemies over time in its radius.
???
30% (or 0)
8s
It can be used with 0 Rage. Damage increases by current Rage.
Third
Happy Place
Temper soothes himself, converting rage into health and a movement speed boost. Attacking cancels ability.
0
18/s
0
Fourth
Hammer Slam
Temper brings both weapons down in front of him, setting the surrounding area on fire.
???
36
7s
Deals Physical and Fire Damage.
Fifth
Bull Rush
Temper charges forward, knocking back enemies in his path.
???
36
12s
Range: 5.
Hero Related Achievements
[
edit source
]