Tundra
Tundra
Information

Affiliation:

Order

Base HP:

625

Mana:

225

Primary Attack Type:

Melee

Primary Damage Type:

Frost

Speed:

???

Trap Affinity:

+25% damage with Saw Of Arctos

Cost in Store:

1500 or 12000
Tundra Oathkeeper of Arctos is a playable Hero in Orcs Must Die! Unchained.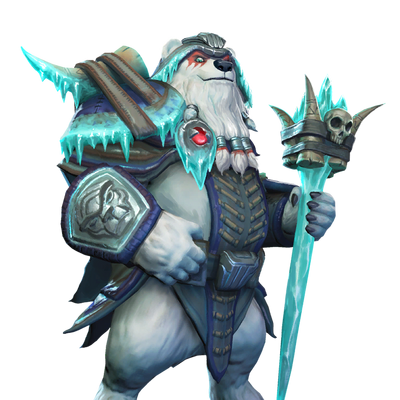 Tundra, a frost magic wielding melee hero, uses his abilities to freeze and deal damage to his enemies.
Tundra, Oathkeeper and scion of the royal family of Arctos, wields formidable frost magic. His powerful abilities inspire fealty in his allies and fear in his enemies. Bow down or feel the icy bite of his scepter.
Extended Character Bio
The Runes of the Arctic Gods protect this missive. If the opener of this scroll be not for whom it is intended, King URSUS FROST of Arctos, then the Winter's Curse be upon you for your trespass!
Father,
To our Arctic gods I pray your health has improved and Arctos prospers in my absence. My warriors and I have arrived safely, but I fear I bear ill tidings. I have seen with my own eyes that the warning sent from the Order was as just and true as the venerable North Wind.
There are a great many rifts here. Curse the vile animals that come forth from them! Orcs, ogres, and other creatures far more troublesome tumble forth like ice boulders in an avalanche. One here, a hu-man they call Maximilian, described their number as "butte lodes," a phrase I take to mean they number as countless as the gems in the bosom of the hallowed Peaks of Arctos.
The Unchained will not live in concord with us. I assure you I have tried, and I continue to try, to demand acquiescence from these baleful creatures, but they will not stand down and obey my decrees. Perhaps I have yet to find one smart or sane enough to listen.
Even though I have led many of our people in battle before, I am troubled by the destruction I see here. This is not a mere skirmish; it is a war. The price of war is blood, both orc and grizzly, and as the Oathkeeper, it may someday be mine. Whatever fate the Arctic Gods have in store for me, I hope I meet it with the comportment with which you have conducted your reign, Father.
Please give my love to Mother. It may be several sheddings before I see home.
Dutifully Yours, Ursus Tundra

This missive is blessed by the magic seal of King URSUS FROST. If the opener of this scroll be not for whom it is intended, Prince and Oathkeeper URSUS TUNDRA of Arctos, then the curse of Eternal Frost be upon you for your fraud. Bear witness to the power of the grizzlies and tremble!
My Beloved Son,
I am jubilant at receiving your message. If I was feeling ill before, this takes the chill from my bones! I will make an offering of thanks to the gods that you reached your destination safely. I am forever indebted to the Order, and though this old hide has many more winters left, I am uncertain I could have made the journey myself. Praise your bravery and sense of duty, my son! You make an excellent Oathkeeper in my absence.
Do not fret about your ability to rule. You will make an excellent king; you have always been wise and blessed with a calmness in battle that rivals the stillness of the midnight snow. Your mastery of magic exceeds that of any of our people, including myself. And do not fret about your fate. I am sure your destiny as Oathkeeper--and future king--will be glorious.
Your mother's mother sends you mammal-fish blood soup and asks in return you "only" send her a necklace of three-score ogre ears. Your mother tells me this is so she may muzzle the boasting of Bernina, mother's mother to one of your captains-at-guard.
May the Arctic gods keep you safe, my child, as you battle the Unchained. Keep me appraised of your exploits.
Love You Butte Lodes, Father
Lore from Character Bio
In the Bios there is a story line, most reference this story line. The story has some side plots that form branches. This Summary is part of the Tundra branch Side Story which take place before Bionka's Invasion:
This Summary continues the side story from Cygnus Lore.
This is Tundras messages to his father the king of the grizzles. Tundra is travelling to the Order to pledge support against the Unchained coming out of the rifts, after the Order sent a warning message. Tundras message to his father is good news, of arriving safety and the filth that is the Unchained. Frost, king of the ice bears, replies with joy, and tells Tundra that he will make a great leader, and his use of magic is the best in the Frost clan. This is the setting of the battle to come. This is based after OMD 1+ 2.
This side story Ends here.

You can also read about the Main Story Line or other Lore of the Orcs Must Die universe.
Icon
Type
Name
Description
Damage
Cost
Cooldown (s)
Notes
Passive
Permafrost
Frozen minions take more damage from Tundra and remain frozen longer. +100% to damage and debuff duration to Frozen-affected minions.
N/A
N/A
N/A
Primary
Glacial Sweep
Tundra swings his scepter, dealing frost damage to the enemies it hits.
???
0
0s
Secondary
Icicle Burst
Tundra shoots 3 rapid-fire icicles, dealing frost damage to enemies and applying a brief slow.
???
25
4s
Third
Wall of Frost
Creates an ice barrier in front of Tundra that blocks the movement of enemies. The wall melts after 5s.
0
40
30s
You can hold to preview the placement.
Fourth
Flash Freeze
Releases a blast of ice, instantly freezing every enemy in a narrow area.
0
80
25s
Fifth
Avalanche (ability)
Tundra becomes a giant snowball, increasing his movement speed and dealing frost damage to enemies he rolls over.
???
10/s
25s
Can be canceled pressing Shift again.
Hero Related Achievements
[
edit source
]
Grizzly Bear "All grizzlies bow to the King of Arctos and his son, the Oathkeeper!" - Tundra, the Oathkeeper of Arctos
Frost Clan Light Orc "My, I... seem to have underestimated the strength of my spell. No matter, they will still die by my claws!" - Tundra, Oathkeeper of Arctos