Zoey
Zoey
Information

Affiliation:

Order

Base HP:

275

Mana:

225

Primary Attack Type:

Ranged

Primary Damage Type:

Mixed

Speed:

???

Trap Affinity:

+25% damage with Overload Trap

Cost in Store:

1500 or 12000
Zoey the Chaotic Apprentice is a playable Hero in Orcs Must Die! Unchained.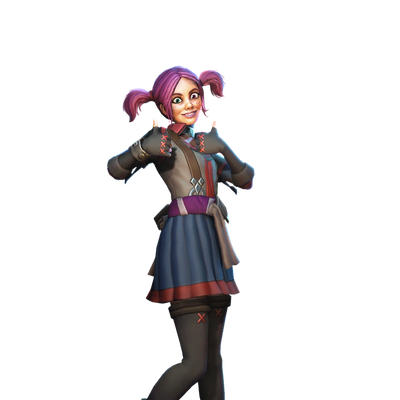 Zoey is a flexible ranged and melee magic user able to randomly cast from any school of magic using her Chaos Tome.
Zoey may be young, but she already has a great deal of power. Wielding the unpredictable Chaos Tome, Zoey's abilities can come from any school of magic. Unfortunately, she is sometimes unable to pick which one.
Extended Character Bio
Entry 1
Hello, Journal! Diary?
Dear Diary,
Yeah, that sounds better. Hello, my name is Zoey and I'm a new student of the Order. Wait, did I just introduce myself to a book? Yes, yes I did.
Way to be a weirdo again, Zoey. No wonder the seat next to me is always the last one taken. Actually, no, the firebat and the Chaos Tome probably have a lot to do with that.
Prof. Rodergo told me that keeping a journal or diary might help me "focus my thoughts." That's what he says I need: focus. Do you know what I think I need? New shoes. And Feebee could use a new bed. Wait, did I remember to buy him food? I guess it's leftovers for him again.
What was I talking about? Class. Right. I think I need a more challenging class. Pretty bored in there, to be honest. Everyone's learning basic spells. I don't need a week to learn magic missile. It's pretty lame.
Crap. Did Prof. Rodergo say he was going to read this? Well, I can rip this page out later.
Thanks for listening, journal! Diary. WHATEVER.
Entry 2
Dear Diary,
So, I've got some good news and some bad news. The good news is my magic missile was the most powerful in the class! The bad news is that it was SO powerful, it knocked my sparring partner off his feet. And through the wall. And across the courtyard. And into the forest. He's okay though. Prof. Rodergo was able to catch him with a levitation spell.
But the really bad news is Prof. Rodergo thinks I'm too powerful for his class, and that I need someone who's a little more advanced. I'm starting in Prof. Lavender's class tomorrow.
I'm going to keep the journal though. It does help, I think, even if Feebee whines a lot when I pay attention to my journal for too long.
Diary. It's a diary.
Entry 3
Dear Diary,
Yeah, Prof. Lavender's class isn't working out either. Neat class though! She had us run mazes mocked-up with stick and paper orcs. Everyone in class had to think up their own strategy to get through the maze. When it was my turn, I just used the Chaos Tome to blow up the maze. I thought it was a good idea at the time. Looks like I'm going to need a new class--again.
Prof. Lavender says that my new instructor may have the "structure I need."
Yay. Structure. That sounds great! Back to Lametown.
Entry 4
Yeah, this isn't going to work out. The first day, Prof. Gabriella told us all we had to be quiet during class, not slouch at our desks, say "Yes, ma'am!" to her, and that we all have to wear formal mage-uniform-type robey outfits. So not my style. She also told me to leave Feebee in the dorm. I can't do that! He'll get lonely!
I don't know what I'm going to do, Diary. Feebee's my only friend! Well, other than you, journal.
DIARY. Jeez.
Entry 5
Dear Diary,
So I brought Feebee to Prof. Gabriella's class anyway. I crammed him into my bookbag and hung him on the back of my chair. He chittered a little bit but seemed fine. But then he wiggled his head out and set the desk behind me--and the kid sitting in it--on fire.
Prof. Gabriella put out the fire, and the kid, and then found Feebee. And now I'm going to be in Prof. Maximilian's class. Prof. Gabriella said I'd benefit from a "hands-off approach."
Apparently this is my last chance. But no worries--Feebee and I will be on our BEST behavior!
Entry 6
Dear Diary,
I didn't think that "hands off" meant "hands not present." I walked into an empty classroom today. Or, I think it was my classroom. It was more like a closet with an alchemy set in it. The set had a friendly note on it that said "Help yourself!" I did. Learned more today than I have all year!
And I didn't get kicked out of class, journal! Yay!
Diary.
Entry 7
Dear Diary,
There was a bum asleep in the corner of my classroom today. I just left him alone. Feebee tried to wake him up but the dude grabbed him. Feebee tried to get away, but finally just went with it and fell asleep. Have you ever seen a grown man and a firebat cuddle? Me neither.
There was a trap kit in the room today and another friendly note... and a drawing of a chicken with an orc's head. Not sure about the drawing, but building with the trap kit was awesome!
Entry 8
Dear Diary,
Awkward. The bum was my teacher. But class today was an orc hunt! Got to use the Chaos Tome to slam some orcs! Best. Class. Ever.
Things are looking up! Until next time, journal!
Diary. Oh, who cares.
Lore from Character Bio
In the Bios there is a story line, but a couple don't reference this story line. This is one of the cases. Lore summary from Bio:
This is her writing a diary. Goes through Zoey losing teachers. Handed from Prof. Rodergo to Gabriella to Maximilian and then finally to Cygnus. This is based after the events of OMD 1+ 2.

You can also read about the Main Story Line or other Lore of the Orcs Must Die universe.
Icon
Type
Name
Description
Damage
Cost
Cooldown (s)
Notes
Passive
Feebee the Firebat
Zoey's pet firebat occasionally attacks using her current school of magic. She gains an attack speed buff when her school changes.
???
0
0s
Primary
Chaos Tome
Fires a ranged spell that deals damage from Zoey's current magic school. Grants an attack speed buff when her school changes.
???
0
0s
Secondary
Book Club
Zoey hits enemies with her book, dealing damage and knocking them aside. On hit, Zoey changes magic schools.
???
40
8s
It can knock back heavy enemies.
Third
Chaos Blast
Zoey fires a powerful blast radially, and her school of magic randomly changes.
???
45
10s
Fourth
Feebee's Wrath
Zoey jumps into her Chaos Tome, becoming invulnerable. Feebee then goes berserk, dealing massive damage to nearby enemies.
???
90
90s
Zoey is Invulnerable during cast and attack.
Fifth
Trial and Error
Zoey casts a random buff that changes her school of magic. There is a very small chance the spell backfires, causing a debuff.
0
45
15s
Hero Related Achievements
[
edit source
]
Push Trap "That trap is SO RUDE! Seriously, who makes a trap that pushes people?" - Zoey, the Chaotic Apprentice
Decoy "I was talking for, like, 25 minutes before I realized there was a decoy behind Prof. Maximilian's desk, and he was napping underneath it." - Zoey, the Chaotic Apprentice
Viscous Tar "No, I'm talking about VICIOUS Tar. He's the frontman of an all-troll ska band. They're great, but you probably haven't heard of them--yet." -Zoey, the Chaotic Apprentice
Mending Root "You know, it tastes just like chicken." - Zoey, the Chaotic Apprentice
XP Siphon "Oh. My. Goodness. Where was this when I was taking that alchemy test?" Zoey, the Chaotic Apprentice
Gnome Destroyer "They may call themselves destroyers, but they are STILL adorbs!" - Zoey, the Chaotic Apprentice
Armored Ogre "Aw, ogres with armor? Can't they play fair and fight in the buff or something? Nevermind. DON'T want to see that." - Zoey, the Chaotic Apprentice